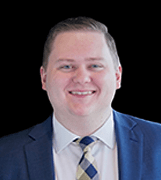 Investment Advisor Representative
Josh joined KPC Financial Solutions in 2023, and he brings with him over 12 years of experience in financial services. He has spent his entire career helping people set themselves up for a successful financial future. For many of Josh's clients, their ultimate goal is to retire comfortably, which can feel daunting at times. By helping them create a secure retirement and financial plan, his clients have a newfound confidence in their ability to fulfill their goals.
Josh graduated from the University of North Texas was his Bachelor of Business Administration degree in Finance. Josh and his wife, Kelsey, have 3 beautiful children and 2 dogs. His free time is usually spent playing with the kids, coaching soccer, barbecuing, and taking the occasional trip to Broken Bow, Oklahoma.